Second Ascent News Blog
Exploring the Chugach with Tino Villanueva 4/23/14
Join us at the shop on Thursday, May 8th with local Tino Villanueva as he presents his stories of exploring the Chugach Mountains on skis and snow machines.

"Since 2009, I have been journeying to Alaska seeking powder snow, big mountains and steep skiing. It has been a progression and the slideshow describes the journey from dirtbagging on a budget, to the first ski mountaineering ascent/descent of Pontoon Peak and through a quest to explore and ski a list of BIG peaks of the Chugach without the use of helicopters."

You can learn a more about Tino at www.tinovillanueva.com orwww.facebook.com/tino.v.alpine

Of course, Second Ascent will provide the 'refreshments' as usual from our local and favorite brewery, Georgetown Brewing!
Link to event on our Facebook page: https://www.facebook.com/events/1424693561123156
Take 20% Off Your Next Purchase in April! 4/16/14
Second Ascent 7th Annual 20% Off Everything Sale 3/10/14
It's the sale that our customers have been waiting for: for 3 days only, we're taking 20% off our lowest marked prices throughout the store! With the exception of bikes (10%), you'll be able to take an additional 20% off the lowest marked price and save up to 70% or more on a lot of great outdoor gear.

We've just received a new shipment of prAna, Mountain Hardware, Icebreaker and more already marked down at 30-50% off and getting more inventory at great prices every day. In addition to apparel, skis, climbing/mountaineering gear, packs, and all accessories are included.

Be sure to save the date because it's a sale you don't want to miss!

Gorging: A Canyoneering Documentary 3/8/14

Join us on Tuesday, March 11th at the shop for Gorging: A Canyoneering Documentary with the Northwest Canyoneering Group and Petzl. Check out and RSVP on the Facebook event page at: http://on.fb.me/1cv8rwT

A bit from the event page:

"Gorging: A Canyoneering Documentary" at the shop on Tuesday, March 11th with the Northwest Canyoneers with donations going to the Snohomish County Helicopter Rescue Team!

Gorging was the winner of Best Documentary as well as Audience Award at the Big Bear Film Festival and "...focuses on explaining canyoneering through the various perspectives of Dennis Turville, Michael Kelsey, Rich Carlson and Steven Cabourne. While all four men each share a love of canyoneering, they differ greatly in the roles they play with respect to the sport.
Canyoneering pioneer Turville highlights the early days, and does an amazing job at explaining the initial passion and thrill for exploring remote canyons along the Colorado Plateau. Guidebook author Kelsey explains his passion for sharing the locations of previously unknown canyons throughout the Four Corners region." - Slugmag.com

Canyoneering and climbing equipment manufacturer, Petzl, will be on site with gear and raffles!

Check out more information on the film at http://gorgingmovie.com/

Tickets available at Brown Paper Tickets: http://www.brownpapertickets.com/event/601049
Going Deep Session 2: A Series of Backcountry Decision Making Workshops 2/24/14

This Wednesday, February 26th is Session 2 of the Northwest Avalanche Center's Going Deep Series, with Margaret Wheeler as the keynote for this session. The focus of this evening will be: Biases, Shortcuts and Uncertain Outcomes: Training Your Brain to Make Better Decisions in the Backcountry. Click here to learn more, get tickets and RSVP!
Going Deep: A Series of Backcountry Decision Making Workshops 2/17/14

Join us this coming Thursday, February 20th as we're hosting the Northwest Avalanche Center's Going Deep Series. This will be the first part of the series with a focus on interaction between the NWAC staff and the general public. The latter events will include speakers Margaret Wheeler and Roger Strong.

Here's the text for the event from NWAC (or you can go straight to the Facebook event here http://on.fb.me/1fu6vzD):

Everything You Ever Wanted to Know About Avy Forecasting (But Were Afraid to Ask): An Evening with the Staff of the Northwest Avalanche Center

Join the Northwest Avalanche Center as we bring together seasoned backcountry professionals along with experts from other industries in a 4-workshop series aimed at providing tangible solutions to improve decision making in the backcountry. Each workshop will be an interactive experience that probes deeper into our decision-making process and teaches new techniques to improve those decisions. Come prepared to participate and takeaway some valuable techniques for your next tour. Everyone (pros and recreationalists alike) is welcome, but some backcountry experience or avalanche education is necessary to fully participate in the interactive sessions.

This series is sponsored and held by Second Ascent in Ballard. http://secondascent.com/

Cost – $5 *will vary per session
Date – Thursday, February 20, 26 and March 4
Time – 7:30 to 9:30 PM
Where – Second Ascent – Seattle WA

What's the difference between 'high' and 'considerable' avalanche ratings? How can I apply the NWAC forecast to the slope I want to ski? How deep is a 'deep instability,' anyway?

If you've ever asked yourself these questions – or any others about NWAC, come join us for an evening with our forecasters, field observers, and staff to hear how it all works.

The first half of the evening will be a lecture focusing on how to make the most of the new NWAC avy forecast. The second half will be a casual question-and-answer session. Please bring any and all questions about NWAC forecasts; how to use the forecasts; and questions about avalanches themselves.

Refreshments provided by Second Ascent.


Tickets can be purchased here: http://www.brownpapertickets.com/event/584926
Looking forward to seeing you there!

SA

Presidents Day & Savings in Every Department 2/12/14

Happy Friday everyone - this week has shaped up for an amazing weekend of fun in the snow! Just be careful, all the lovely powder dumps we've received in the last couple weeks have created some tricky conditions! Check out the Northwest Avalanche Center (NWAC) for your current conditions before heading out.

Speaking of NWAC, this weekend brings in the much favorited and popular backcountry event - VertFest! Put on in conjuction with NWAC, Outdoor Research and many others, this is a fantastic event for anyone that skis or spends anytime in the backcountry! It's a race, it's for recreation, it's a clinic, and an experience; any way you look at it, it's a great way to show your support for the site that lets you know when it's safe or not to get out there and play in the snow.

For the weekend and through Presidents Day (2/17), we're promoting knock out prices throughout the store and the savings in every department. Whether you're looking for skis, bindings or accessories, we've got a huge selection marked down 15% to 20% on all current season gear! We've marked down a lot of our current apparel 30-40% off as well as marked our previous season ski gear an additional 20% off. Expect to save on our best brands like Black Diamond, Dynafit, Marker, FiveTen, La Sportiva, Rossignol, Arc'teryx, prAna, Marmot and so much more. With all the new snow dumping right now, there couldn't be a more perfect reason to take advantage of our deals! Come on in while the gettin's good.

Have a great weekend and stay safe.

-SA
Follow Us on Instagram & Win $50! (Ends 2/17) 2/11/14

Check out our feed at: http://instagram.com/secondascent
February Brings In New Weather & More 2/4/14

Here we are, February of the new year, 2014. And with it, new weather that for many of us, is a big sigh of relief. Spring-like ski conditions have been the norm for most of the season and interestingly prolonged inversions have left the mountain tops thin, icy with a mildy damp chill in the city. For the first time in years, seems like the Pacific Northwesterners were a little jealous of the snow the rest of the country was getting. Now lets see how much winter brings with the new cycles rolling through. Reports from our staff that were skiing the backcountry over the weekend have been very positive and the weather outlook is wintery cold temps for most of the immediate future.

With that said, there couldn't be a better time to get in and check out the deals on our skis and related apparel. Yes, you could wait and see what's in store for our winter clearance…but then there probably won't be any snow to enjoy your new gear! We've got 15% off on already marked down skis across the board (pun intended) and 30% and more on apparel throughout the store, including this seasons Black Diamond, Outdoor Research, Mammut, Arc'teryx and much more. Check out our ski line from brands like G3, La Sportiva, Rossignol, Black Diamond and Voile – we've already marked down our Dynafit Bindings as well as the newest backcountry binding from Fritsche: The Vipec.

Some upcoming events you should check out:
On March 6th, We're hosting the slideshow "Light & Fast in the Alaska Range," a story about two local guys – Will Hinckley and Braden Downey – and their recent trip to Alaska and the climbing they did there: 4 Mountains, 105 Hours and 15,200 Feet. The best part? These guys aren't sponsored – just hardcore and doing what they love.
As usual, our shows are supported by our friends at Georgetown Brewing for the refreshments!

Looking forward to seeing you all at the shop!-SA

Denali: Climbing North America's Highest Peak 1.27.14

Link to our Facebook Event page: http://on.fb.me/1alfTtq

120 mph winds, -40 degree temperatures, it's no wonder over 1,000 people a year attempt the "High One"

Second Ascent is hosting a Denali informational lecture and anyone even considering an expedition to Denali is encouraged to attend. The event will be hosted by Ian Nicholson and Andrew Magnussen who have the combined experience of over 10 expeditions to the Alaska Range between them.

Ian and Andrew will share air taxi options, common camp and cache sites, route schedules, and the most common and successful acclimatization strategies. Detailed route information will be given, along with what to expect each day of the trip. Ian and Andrew will also go over the necessary gear, including food, clothing, and glove and boot systems, as well as shelter and sleeping system options.

Who: Anyone who is considering going to the Alaska Range
When: 7:45. January 29. approximately 1-2 hours
Where: Second Ascent
5209 Ballard Ave. NW
Seattle, WA 98103
Second Ascent Black Friday Sale 2013 11.28.13

Happy Holidays everyone! Hope everyone is enjoying their day(s) off doing something fun and being with people they love. We're closed for the 29th but will reopen on Friday with our Black Friday Sale, with 20% off everything the lowest price in the store - except select bikes and ski equipment!

See you in the shop!
2014 Kona Process Bikes have Landed & Demos Available 11.26.13

We just received all the Kona Process mountain bikes for 2014! Available in 111, 134 and 153 models, these bikes are designed with every rider in mind. From Kona:

"We've spent the past three years working towards the most complete platform of mountain bikes we've ever produced. We've thought of everything from intended use, ease of maintenance and rider fit to wheel size, and of course, ride performance. No stone has been left unturned. Featuring our new Rocker Suspension, our Process series of Enduro bikes is designed to attack technical terrain, up, down and all the way around."

Of the Process 111:
All-new Kona 6061 Aluminum Butted 111mm travel 29" Enduro frame with 12x142 rear axle
RockShox Revelation RL Solo Air 120mm travel fork with QR15 axle and tapered steer tube
Shimano SLX brakes and QR15/12x142 hubs
RaceFace Turbine 1x10 crank with SRAM X9 Type 2 rear derailleur and 11-36T cassette
KS Lev Integra dropper post
Process 134:
All-new Kona 6061 Aluminum Butted 134mm travel 27.5" frame w/ 12x142 rear axle
RockShox Sektor Silver Air 140mm travel fork with QR15 axle and tapered steerer
Shimano SLX Shadow Plus rear derailleur with Deore 2x10 drivetrain and brakes
Shimano Deore QR15/12x142 hubs
Carbon Bridged Rocker
Process 153 (pictured below):
All-new Kona 6061 Aluminum Butted 153mm travel 27.5" Enduro frame with 12x142 rear axle
RockShox Pike RC Solo Air 160mm travel fork with QR15 axle and tapered steerer
SRAM X7 drivetrain with Type 2 clutch rear derailleur
Shimano Deore hydraulic disc brakes with 203mm/180mm rotors
Maxxis High Roller II 27.5x2.4" EXO F60 SC fr / 2.3" EXO 3C rr tires
"When we introduced the Process last year, it was an immediate hit. Bike Magazine called it "a genre-defining bike." The all-new 2014 Process features our new Rocker Independent Suspension, which serves up a deep-dish progressive feel but keeps the bike high for optimum pedal efficiency. The new linkage incorporates large bearings, while the frame geometry features a low BB, using the shortest possible chainstays for a nimble, responsive ride. This is our do-it-all and affordable no-holds-barred Enduro bike. With a great component package that features Shimano brakes, a Type 2 rear derailleur, tubeless compatible WTB 27.5-inch rims and a RockShox Pike 160mm fork, the Process 153" does not skimp.

Stay tuned for a review from our shop manager, Isaac in the next week!
Outdoor Research Samples Just Arrived - 40-50% Off! 11.25.13

We've just received a huge shipment of this winters Outdoor Research samples into the store on and on the floor! Save up to 50% off on jackets, pants and other winter wear from one of the best outdoor brands for skiing, mountaineering, climbing and backpacking. Perfect timing for the holiday season. Note: Image doesn't reflect the huge amount of inventory that just came into the store!
Second Ascent Winter Sale 11/21-12/1 11.18.13

Join us for our holiday kickoff sale this Thursday! We'll be marking down 20% on this years winter outerwear, apparel and up to 35% on footwear, sleeping bags, gear and more. Whether it's a new shell or insulated layer for your ski or snowshoeing adventures or gear for mountaineering, biking or backpacking/winter camping, we'll have some great deals going on!
Pre Holiday Sale Going on Now! 11.16.13

The snow is officially falling in the Cascades right now - with almost 2 feet at Stevens Pass over the last 2 days! It's about that time to get the jacket or pant for the new season you've been holding out for in hopes of a snowy season. Some of our top brands for this season will be on sale at 20% off, with a whole lot more throughout the store. Give us a call for details or stop on in and check out what's happening. In-store only.

See you soon!
20%-35% Off on All Packs, Tents & Sleeping Bags! 10.31.13

For the weekend of Halloween, we're clearing out ALL of our tents, backpacks and sleeping bags at an awesome 20%-35% off! That includes all of our current and most popular brands in the store. Come on down to the shop and get your gear for the season and even for the upcoming holidays. It's never too early to buy gifts, right?
Fall/Winter 2013 Bike Blow Out Sale 10.30.13

We are blowing out our bikes right now at Second Ascent! Come down to the store to find these great deals:
2013 Scott Voltage FR30 (short) - MSRP $2000 - Now $1499.95
2013 Scott Spark 960 (L) - MSRP $1900 - Now $1599.95
2013 Scott Aspect 940 (L) - MSRP $680 - Now $549.95
2013 Scott SUB 30 (XS) - MSRP $750 - Now $599.95
2013 Scott SUB 40 (XS, S, XL) - MSRP $600 - Now $449.95
2013 Scott Metrix (S, XL) - MSRP $740 - Now $499.95
2013 Scott Speedster S30 (M, L) - MSRP $1100 - Now $699.95
2013 Kona Shred (14", 20") - MSRP $900 - Now $599.95
2013 Kona Honky Tonk (56cm) - MSRP $1000 - Now $749.95
2013 Kona Dew (46cm, 53cm, 56cm) - MSRP $480 - Now $399.95
2013 Kona Dew Deluxe (53cm, 59cm) - MSRP $800 - Now $599.95
2013 Kona Dr. Good (46cm, 49cm, 59cm) - MSRP $900 - Now $699.95
ALSO....

Buy any new bike at regular retail price and receive 20% off any and all parts and accessories at time of purchase (including cycling apparel)!

And 20% off on...
All Endura Apparel
All Specialized Apparel, Helmets, Parts and Accessories
All Cycling Footwear
All Synchros Parts and Accessories
Come get some!
Free Avalanche Clinics for 2013-2014 at Second Ascent! 10.26.13

It's that time of year again! Come on down to the shop on Thursday, November 7th to kickoff our annual Avalanche Awareness Clinics with the

Friends of the Northwest Weather and Avalanche Center

! This is one of the most informative, free classes you could ask for - especially if you spend anytime in the snow and backcountry! Give us a call for questions or details.

Who: Anyone - whether you ski, snowboard, snowshoe, ski blade, snowmobile, XC/Nordic, etc. No prior experience necessary.

What:
Learning some basics on backcountry snow travel
Identifing obvious and not so obvious existing dangers - choose your line!
Learn what tools are available to you before heading out and while you're in the field
And so much more!
When: 7:45pm Nov 7 and Dec 5th, 2013 and Jan 8th 2014 - approximately 1-2 hours

Where: At the Second Ascent Store at 5209 Ballard Ave. NW, Seattle. 206.545.8810
Second Ascent Sponsors TGR: Way of Life Nov.19th 10/21/13

Come on out for Second Ascent's showing of Teton Gravity Research: Way of Life on Nov. 19th! All funds will go to the Northwest Weather and Avalanche Center.

Will be shown at the Tractor Tavern in Ballard - doors open at 630pm. Hope to see you guys there!
5th Annual BIG 20% OFF Sale at Second Ascent 9/12/13

It's that time again - where has the summer gone? We ask this as the heat seems to still be around with 90 degree temps yesterday!

This September 20th through the 22nd, we're having our ever popular 20% off lowest marked price on ALL gear, apparel and accessories, and 10% off all retail priced bikes! Of all the sales to come to, this would be the one!
Second Ascent 1st Ever Tent Sale Aug 15th-18th 8/12/13

This Thursday is the 48th annual Ballard Sidewalk Sale and Second Ascent is going to be filling up it's parking lot with gear and apparel from the warehouse as well as the store! Located right next to Kings Hardware, the parking lot will be cleared of cars and we'll have stuff marked down at 75% off or more on brands ranging from Black Diamond, prAna, Arcteryx, Deuter Packs, Gregory and so much more! Be sure to check it out and all the other fun stuff going on in Ballard.
Join us at the Second Ascent Retail Store for Kyle Miller's Last Slide Show in Seattle! 8/7/13

Facebook Event Link: http://on.fb.me/13tYvgk

On August 15, Kyle Miller will be giving his last slideshow in Seattle at the Second Ascent Store:

"The Season of The Vagabond"

From loosing gear in a snow storm to burning boots in a fire, these are 10 classic stories from this season that make the backcountry so addictive.

"Eddie Bauer First Ascent splitboarder

Kyle Miller

has been drifting with a purpose this winter around the burliest ranges of the West Coast, from Revelstoke and Rogers Pass to Utah's Wasatch and the Canadian Coast Range. But he's a Washington guy in heart and soul. So the first big spring weather window drew him home to tackle the Abandoned Splitboard Traverse on Glacier Peak—solo. This is Kyle's report on numerous classic Evergreen State epics and the powerful pull of solitude and isolation in his favorite Washington zones."

Dan Kostrzewski

The shop will be providing beer so be sure to bring your ID's, your thirst and get ready for the entertainment that only Kyle Miler can bring!
-SA

Second Ascent Athelete Graham Zimmerman Sends Another First Ascent In Alaska! 7/23/13
On a return trip to Alaska this month, Graham Zimmerman and Scott Bennett completed yet another first ascent in the remote Revelation Mountains of the Alaskan range. We received their report last night and from their description, sounds like they found some gold in them hills. Here's the complete report, written by Scott:

"Date of Ascent: July 13-14

Climbers: Scott Bennett and Graham Zimmerman

Graham and I have just returned to Talkeetna after spending a fun-filled ten days in the Revelation Mountains. This remote range, on the far southwest end of the Alaska range, has been visited a few times in Spring season, and climbers have returned with stories of amazingly huge mixed lines and perfect "J-tree" white granite. We had found almost no information on summertime rock climbing in the range, so we were excited to make a reconnaissance mission and see what these mountains could offer.

We flew in with Talkeetna Air Taxi on their new R44 Helicopter piloted by Will Boardman. Lack of snow for a ski-plane landing made the helicopter essential, so we're very thankful to Will and TAT for their help. It should be mentioned that landing a helicopter in Denali National Park is illegal, but the Revelations are outside of the park. It was TAT's first helicopter insertion for a climbing trip.

During the hour and a half ride into the range, during which we saw no roads and few signs of human life, we got a visceral feel for the scale and isolation of Alaska. Once the drone of the chopper faded, and Graham and I were left on the glacier with our gear, we'd entered our own little mountain kingdom, sole rulers and inhabitants.

Once we had gotten a feel for our realm, we realized that we were camped directly underneath the most enticing objective: the East Buttress of the Angel!

We began climbing on July 13th, starting up a beautiful granite wall with cracks and corners aplenty. 600 meters of quality rockclimbing, with difficulties up to 5.10, filled most of our day. Everything was climbed onsight and followed free. We were stoked to find a perfect bivy spot on the ridge, where we set up our comfy little tent and sheltered from a passing squall. After a few hours of rest during the midnight sun we began climbing again surrounded by blue skies! A low cloud layer below us brought the surrounding peaks, jutting through, into beautiful relief.

Another 500 meters of classic ridge terrain separated us from the summit, and we occasionally donned crampons to navigate snow and ice while simul-climbing. At this point we shared terrain with the 1985 ascent of the Southeast Buttress made by Greg Collins and Tom Walter (full history below).

Reaching the summit midday, we paused to remember our friend Zach Orman, who passed away earlier this year in a paragliding accident. We miss you Zach!

We descended to the North and then rappelled 600m down the Eastern aspect of the North Ridge to a hanging glacier which we were able to mostly walk down back to the main Revelations Glacier.

After this point our options became extremely limited due to multiple core shots in our ropes and terrible weather. On the 21st of July we flew out of the range after five days of being pinned down in heavy rain and wind.

Huge thanks goes to the Mugs Stump Award for their generous support, as well as the New Zealand Alpine Club's Expedition Fund.

Also many thanks to our sponsors, Outdoor Research, Rab, Camp, Petzl, Second Ascent, Scarpa, Boreal, Nudefood, Julbo and Cilogear.

History:

The Angel was first climbed in May of 1985 by Greg Collins and Tom Walter. They succeeded, after four attempts, in climbing "Snow ramps with an occasional rock move or two along the left flank of the [East] buttress." After a crux slab (5.10), they gained the East ridge and followed that to the summit. (Tom Walter, 1988 AAJ, p. 119)

(In the report they describe their route as taking place on the 'Southeast Buttress' of the peak. We think that their route is on the south side of what we are describing as the 'East Buttress'. It seems that our route joined the 1985 route at the top of the buttress and followed the same moderate ridgeline to the summit)

In April of 2012, Clint Helander and Ben Trocki made the second ascent of the mountain by opening the South Ridge. Clint was super helpful and inspirational for our trip, in driving us around Anchorage, giving us photos and maps and generally sharing his enthusiasm. Thanks Clint!

http://www.alpinist.com/doc/web12s/alpinisthelanderrevelations"
Second Ascent sends big props and congratulations to you boys - strong work!!

-SA

July 4th Sale - Going on Now till July 7th! 6/28/13
Climbers Party, Slideshow and Fundraiser Party on 7/2/13! 6/6/13

CLICK HERE TO GO TO THE FACEBOOK EVENT PAGE!
Graham Zimmerman and Mark Allen Make First Ascent In Alaska 5/27/13
Memorial Week Sale! 5/15/13

20%+ on select products throughout the store!
6th Annual 20% Off Everything in the Store Sale: 3/15 -17! 3/06/13
Spring Stoke Party at The Tractor Tavern: 3/12/13! 2/28/13

Mark your calendars for this event: Second Ascent is hosting a party to celebrate the spring season and raising funds for The Northwest Weather and Avalanche Center!

Jason Hummel will be presenting a slideshow sharing his most classic and memorable imagery and the stories behind them - illustrating why he's one of the best photographers in the field today!

Roger Strong will be presenting his climbing/skiing new routes throughout the continent, and how 20 years of crab fishing made him one of the Pacific Northwest's most recognized hard men!

Local Climber DJ Sweep (aka Kurtis Oduber) will be turning tables and keeping the beat through the night!

Join the event here! http://on.fb.me/YKFdQH


We'll have a ton of raffle prizes including a chance to win one of Jason's framed prints! Also includes gear from companies like Cilogear, OR, Petzl, Arc'teryx, Smith Optics, Exped, G3, Deuter, Julbo, Optimus, Reflekt and more!

Come on out on March 12th for a great evening! $5 Cover
Shop Party Bike Night! 2/20/13

Come show your support for the Evergreen Mountain Bike Alliance -there's gonna be a lot going on at Second Ascent this Saturday night - we're giving away 3 bikes from Transition Bikes, The Kona Bicycle Co. & Redline Bicycles; gear from Bell Bike Helmets, CamelBak, 5.10 and more..including kegs from Georgetown Brewing and Ninkasi Brewing! All funds will go directly to the Evergreen Mountain Bike Alliance. Ride your bike, bring your thirst and invite your friends!
Presidents Day Week Sale 2/18/13

Come on down to our retail store this week for our sales on items across the store, some totalling up to 50% off retail!
20% off on select bike gear
30% off Exped Sleeping Pads
30% Select Gregory and Osprey Packs
30% off on all 2012 Marmot Down Sleeping Bags
30% off on all Mtn. Hardwear Sleeping Bags
20% off on all Sierra Designs Sleeping Bags
Smartwool socks, Darn Tough, Superfeet, Down Unders - 20% off
5.10, Scarpa and Salomon footwear 20% off!
All retail snow goggles - 20% off
And so much more!

Jan.30 Free Avalanche Clinic 1/17/13

Come on out to what might be our last clinic of the season! This is a perfect primer for anyone who travels in the backcountry or is just starting out. Taught by our own AIARE Instructor, Ian Nicholson and includes great refreshments! Give us a call and reserve your spot - 206.545.8810
30% Off Winter Clearance Sale (In-Store Only) 1/10/13

We're kicking off a big [in-store] sale today with 30% off (and beyond!) all of our fall and winter 2012 apparel - that includes all retail/closeouts/samples of Patagonia, prAna, Mountain Hardwear, Outdoor Research, Mountain Equipment, Marmot, Arc'teryx and more! This event will go on until everythings sold so make sure to get in the store before it's all gone.
Mentor Pants and G3 Ski Sale 1/9/13

A big thanks to all those that attended last nights Avy Clinic with Ian Nicholson! We had over 60 people come and be educated with Ian's fun and entertaining style. Here's to another group of peeps that left a bit more knowledgeable on backcountry travel!

This month we're kicking out some serious deals on a couple great products. The Outdoor Research Mentor Pant is on sale for $249 - that's over 40% off the retail price. We have quite a few in stock but at this price, we imagine them to run out pretty quick. Here's OR's description:

"Inspired by big mountain endeavors, the Mentor Pants™ are up to the most demanding alpine challenges. Made of bomber, abrasion-resistant GORE-TEX® Pro fabric, these pants are seam taped for complete waterproofing."

But don't take their word for it - we think they're one of the best alpine pants ever made and now at a stellar price.

Next up, we have two of the best 2012-13 freeride & all-mountain skis from G3 selling at 30% off! These are cosmetic blemed skis with full warranty!

Actual ski's on the floor:
The District was Ski Magazines favorite for all mountain skiing and "...is a one ski quiver for maximum versatility, and excelling in deep snow." according to Utah Adventure Journal. Retail: $719.95 now $499.95! Get yours here!

We also have G3's raddest freeride skis for 30% off - The Empire. Rated as one of the best freeride skis of the year by Powder Mag, Backcountry Mag and Skiing Mag! Retail: $800 now $549.95 - get them here!
So get on down to the shop and check out the great gear and sales!


~SA

Happy New Year! 1/3/13

Thanks to everyone for an awesome 2012 and wishing everyone a happy 2013!

Kicking off the new year, we are now in the final running for Backpacker Magazines nomination of The Best Used Gear Store in the Country! Voting began yesterday (1/2/13) and while we're not sure the duration of the voting, be sure to head over and cast your vote at http://www.backpacker.com/reader-survey-the-best-used-gear-shops-/gear/17205!

Also, be sure to spread the word that we're hosting our second avalanche awareness class this Tuesday (1/8/13) with our very own AIARE Instructor Ian Nicholson as well as a great brew from Georgetown Brewery. Hope to see you there!

~SA

Avy Clinic and More! 12/28/12

On January 8th, we'll be hosting our second Avalanche Awareness Clinic at our shop (8pm). We'll have special discounts on avalanche safety equipment as well as a keg from Georgetown Brewery so we'd love to see you! The last show we had here at the shop drew over 80 people and with our very own Ian Nicholson instructing the class, many said it was super informative and really highlighted the necessary information for backcountry travel. This class is intended for anyone looking to get out and enjoy our vast areas in the pacific northwest, whether your skiing, snowboarding, snowshoeing and even snow mobiling. Be sure to give us a call to reserve your seats at 206.545.8810
Also, we have loads of new apparel and gear coming in daily from all of your favorite brands. That also means we're constantly rotating out what we have on the floor with great deals and sales on already marked down/competitive pricing. We currently have Arc'teryx, Ibex, FlyLow and Marmot samples and/or closeouts at up to 50% off retail pricing. We also have 15% off on select ski boots, 20% off select footwear and super low prices (over $100 off) on skis from previous seasons. Come on in!

Get your last minute buys! 12/11/12
2012/2011 Bike Sale! 12/7/12
'Tis the Season of Giving - Donate your Gear for the Ballard Food Bank 12/5/12
Free Avalanche Awareness Clinic @ Second Ascent - 12/5 11/26/12

Join us on December 5th for a free Avalanche Awareness Clinic given by our very own Ian Nicholson, instructor from the American Institute for Avalanche Research and Education (AIARE)!

We'll have special guests from the Seattle Snowshoe Meetup Group attending but the night is open to everyone! Be sure to call in to reserve because seats are limited and we usually run out of spots quick. 206-545-8810

This hour long introductory program is perfect for anyone that travels outside in or near the backcountry and provides awareness to the dangers while enjoying the snow! Sponsored by Second Ascent and Friends of the Northwest Weather and Avalanche Center.
Winter Has Finally Come 11/20/12

Thanks to all the people that attended the Graham Zimmerman slideshow! 75 people came out and gave props to our local boy and fun was had by all. We'll be following Graham in his upcoming adventures so be sure to check up on our Facebook page. Another big thanks to those that attended the Second Ascent premier of Teton Gravity's Dream Factory! We had over 200 people attending to watch a great flick and support the Northwest Weather and Avalanchce Center. Stay tuned as November 28th will be a fantastic night with Rab athlete Aaron Mulkey and his global search for ice climbing. The kegs will be flowing and over $1000 in Rab swag will be given away!

After a long and beautiful fall season, looks like old man winter has finally made it's way to the PNW. Crystal Mountain received over 30" of new snow over a single weekend and Stevens Pass has been getting it's fair share; both planning to open this week.

To celebrate the new season, we're having a SALE!
While you're in the store, be sure to check out our new backcountry ski area location in the shop!
Looking forward to seeing you in the shop!

SA Crew

More shows to come... 10/30/12

Now that the smoke has cleared from our sold out REEL ROCK 7 Show where 400 attendees descended on Vertical World's Seattle gym and raised over $3000 for the Washington Climbers Coalition, AND the Ian Nicholson Show at the Tractor (250+ attendees), we're now looking forward to Graham Zimmerman's show followed by Aaron Mulkey!

As laid out in our last post, Graham 'GZ' Zimmerman will be at the shop for his slideshow on November 13th, presenting on his recent travels in Patagonia, British Columbia and Alaska as well as a first look into his recent documentary film and introspective!

Aaron Mulkey will be at the shop on November 28th to present "PURSUIT: EXPLORING THE UNEXPLORED" This show will cover his quest for unclimbed ice from the heart of Norway to the deep Wyoming Wilderness with over $1000 in Rab and other gear giveaways..and beer!

Check out the events on our FACEBOOK PAGE and RSVP!



Graham Zimmerman Slideshow (Nov. 13th); Second Ascent Sponsored Teton Gravity Research "Dream Factory" Film & NWAC Fundraiser on Nov. 19th at the Tractor Tavern! 10/30/12

We are on the final days counting down to the Reel Rock 7, Washington Climbers Coalition Fundraiser Show, Ian Nicholsons Book Release & The Struggles show as well as an upcoming slideshow with local boy Graham Zimmerman! As another great show this month, we're also sponsoring the Teton Gravity Research latest film: The Dream Factory; with proceeds going to the Northwest Weather and Avalanche Center!
=====================

Follow TGR's modern day athletes on this cinematic voyage through Alaska's awe-inspiring expanse, rich history, and colorful characters. Watch as the TGR crew ventures from AK training grounds Jackson Hole, WY, and Pemberton, BC, and delves deep into the Alaskan way of life during a record snowfall year in AK, skiing terrain most of us only dream about.

Playing at the Tractor Tavern on November 19th at 8pm!



Second Ascent Sponsors the Reel Rock 7 Film & Fundraiser on Nov. 3rd at Vertical World Seattle! 10/19/12

Get your tickets now for the most anticipated annual climbing production of the year - Reel Rock 7! One of the best climbing films of the year meets a great cause to raise funds for the Washington Climbers Coalition - ALL proceeds go towards their ongoing efforts!

We're selling tickets at the store and at Vertical World locations. The American Alpine Club - Cascade Section is also sponsoring the event with kegs from Georgetown Brewing. More details on our Facebook events page - Hope to see you there!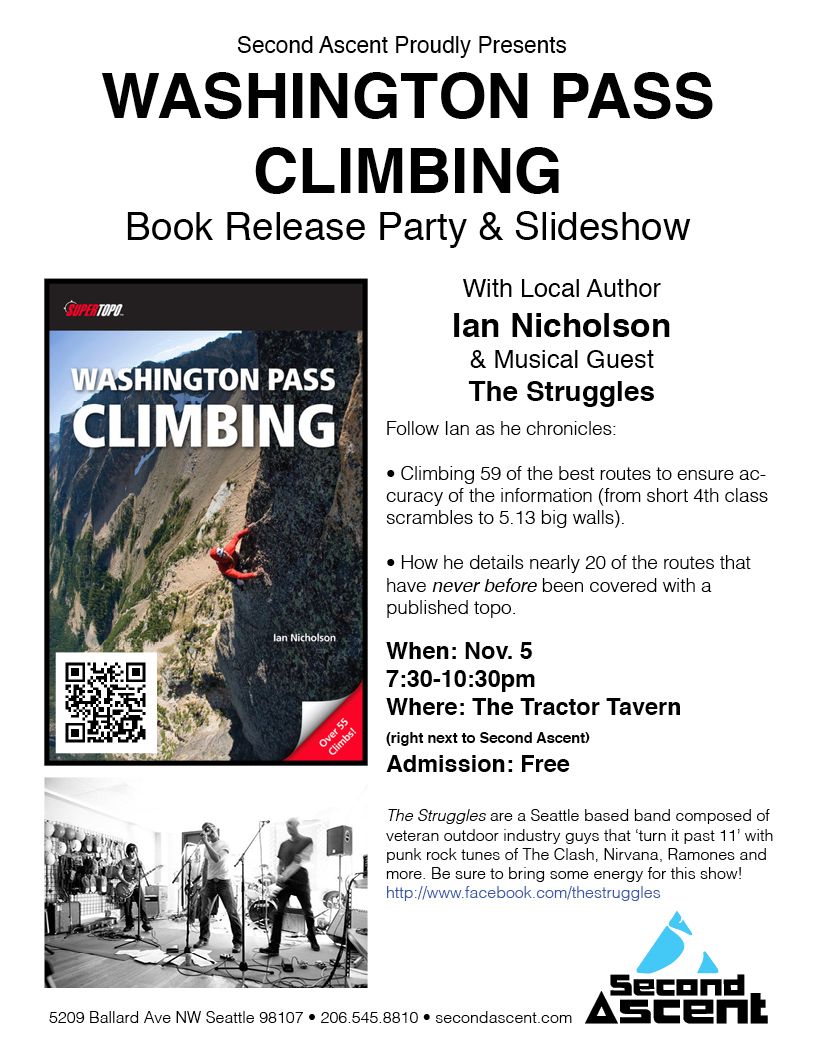 Two Shows Coming up!

Chad Kellogg Joins Second Ascent for a Slideshow on 10/3/12

& Ian Nicholson Book Release Party with the Struggles at the Tractor Tavern 11/5/12!______9/26/12

Join us on October 3rd as Chad Kellogg steps up to the mic to present his trips this year - A January Ascent of Cerro Torre Via the West Face, dubbed as "some of the most incredible ice formations to be found anywhere in the world."(PATAclimb.com) Also shown will be footage of his speed ascent on Everest and a sneak peek into his next objective - The Highest Unclimbed Peak in Nepal....

You can read more on Chad on his website: http://www.chadkellogg.com/

Doors will open at 8 and limited to 100 people - we'll try to get more in but you'll be standing!

===========

Also coming up and definitely not to be missed is the long anticipated release of Ian Nicholson's Washington Pass Climbing Guidebook! Scroll down to see the flyer - Second Ascent is kicking off this event with a slideshow by Mr. Nicholson himself, chronicling his story of climbing 59 of the best routes himself for guidebook accuracy as well as 20 never before published climbs! Books will be available at a significant discount!

Ian's show will be followed by a performance by the Struggles - an outdoor industry punk & rock band of climbers, skiers and guys working for the likes of Gore, Cascade Designs, Petzl, Second Ascent and more! Performing bi-annually in Salt Lake City at the Outdoor Retailer Show over the years, these guys have been known to get people slamming!

Come on out and support your local climbers!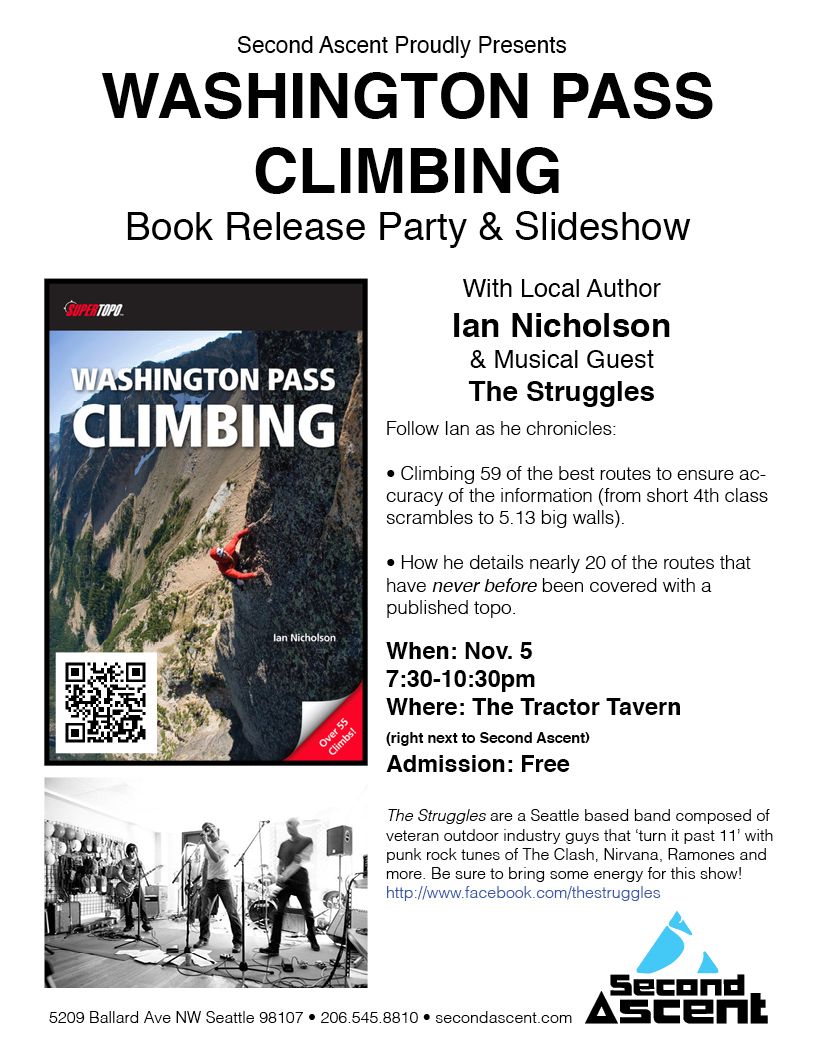 Join us this weekend for the In-Store, 5th Annual 20% Off Everything Sale!!_______9/17/12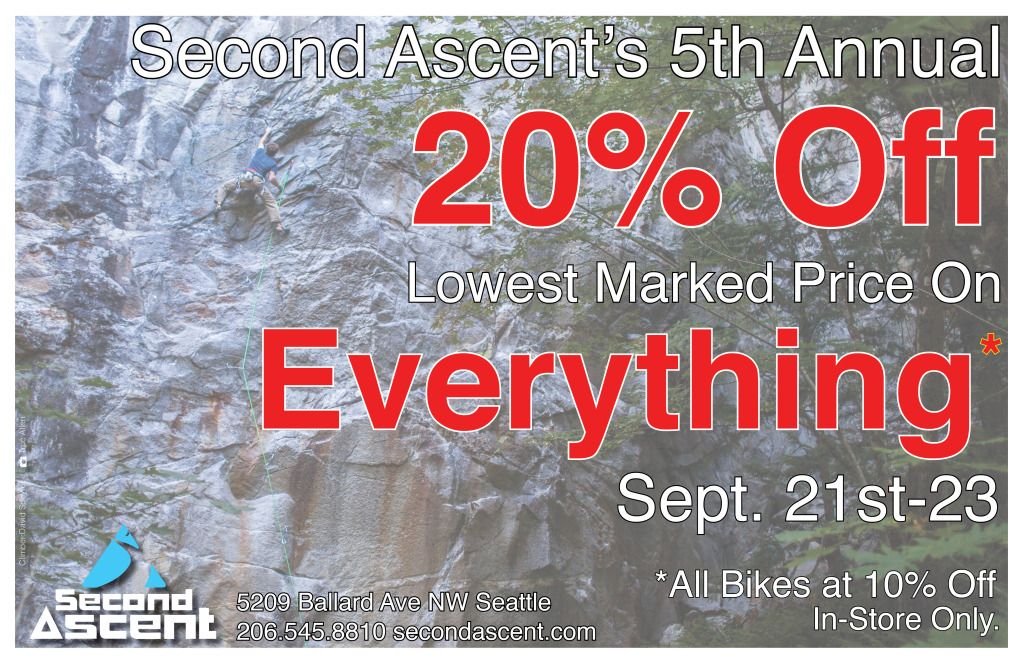 Win a Pair of 5.10® Karvers by Haiku!_____________________________________9/13/12
Thank You Seattle for Making Us the "Best Used Sporting Goods" & "Best Sporting Goods" Store! 9/10/12

CBS Local just posted us as one of Seattle's Best Used Sporting Good Store in addition to their earlier article of the city's Best Sporting Goods Store and we would like to send a warm thank you to all the customers who have supported us through the years!

"This Ballard institution proves you don't have to break the bank to get top-quality backcountry sporting and camping gear. Second Ascent offers a wide variety of new and used clothing and equipment for backpacking, climbing, skiing and cycling. The secondhand inventory includes a large selection of name-brand outdoor and biking clothes, climbing shoes, backpacks and tents, but with luck, you might be able to pick up a used mountain bike or backcountry skis in the wintertime. Take advantage of the generous trade-in policy, which allows you to swap old equipment for in-store credit. The friendly expert staff happily chimes in with advice, and the full-service bike shop is one of the most experienced in town, so don't hesitate to seek help in finding the right gear for you." - http://seattle.cbslocal.com/top-lists/best-used-sporting-goods-stores-in-seattle/

Here's a like to their earlier article: http://seattle.cbslocal.com/top-lists/best-sporting-goods-stores-in-seattle/

Hope you guys are all out there enjoying this fantastic weather!!

-SA Crew

Move Over Summer, It's Time for Something a Little Cooler 9/4/12

Well, it's looking like summer is quickly getting bumped aside for crisper, cooler temps already and we're busy trying to clear our racks for new fall/winter inventory. Today is the last day of our Labor Day Sale but never fear, those of you who have been with us for some time know there's something coming up around the corner (insert smiley-wink).

For the upcoming season, we're launching a lot of new things that Second Ascent hasn't done for some time...or at all! A few things to look forward to:
The Mountaineers OutdoorsFest - This Saturday, actually. As one of the Silver Sponsors of this years OutdoorsFest, we'll be there with a booth and opportunities to win some great gear! Here's a taste of what it's about:


"If you are just getting acquainted with what the Pacific Northwest offers to the outdoor adventurer, if you want to find out how to enhance your outdoor experience, or you simply want to start from square one, The Mountaineers OutdoorsFEST and its sponsors welcome you. Feel free to try new activities, take a course, become a Mountaineers member or simply discover what makes Washington state such a mecca for outdoor adventure.

Indoor and outdoor climbing walls (bring your chalk bag and rock shoes!), clinics, a family activity zone, a gear swap, gear demos, book sale, outdoor gear vendors with their latest innovations, and conservation groups will all fill the Program Center grounds from 10 am to 5 pm in the northwest expanse of Magnuson Park along Lake Washington. The best part of all: it is FREE! Bring as many friends and family members as you can
Reel Rock 7 - On November 3rd, Second Ascent is proudly sponsoring this years premier of the annual climbing film showing at Vertical World Seattle. An added bonus includes the American Alpine Club - Cascade Section covering the beverages. This is truly a wonderful opportunity for climbers to attend because 100% of the proceeds will go to the Washington Climbers Coalition! That means you get to watch one of the best climbing productions of the year, drink free, hang out in a cool venue and give back to a great organization for $15! Click the Reel Rock link above and join the event - limited tickets will go on sale on Friday September 7th at Second Ascent and Vertical World Seattle. These tickets will sell quickly so make sure you get some before they're gone!
Looking for some stoke the ski season? We're in the middle stages of getting some of the newest films aired here this fall and winter to keep your psyche up! Stay tuned as we'll be making announcements in the coming weeks.
Do you know about the Send & Social? Brought to you by the American Alpine Club - Cascade Section and held at the Seattle Bouldering Project, the Send & Social is a fun, monthly event bringing what Second Ascent has dubbed "socially responsible debachery." Come on out and climb for awhile, and then get your game on to win some gear and test your brain and brawn! We'll be bringing a keg to this one.
Also in the works are the return of our successful (and free) Avalanche Awareness Class. We're working with the Friends of the Avalanche Center/Northwest Weather and Avalanche Center to get people aware of avalanche dangers and just how big of a deal it is up here in the NW. We'll be posting up the dates soon.
So that's just a part of what we have planned. You can get the most up to date info on what we're up to on our facebook page as well as monthly chances to win some great gear!

Until next time,

The SA Crew

Come on SUMMER! 6/22/12

As the rain comes down in the heart of Ballard and the temperatures hover around the upper 50's, we're starting to wonder "where's summer?" To put it in perspective (i.e. it could be worse), New York this morning was complaining about 90 degrees and 70%+ humidity!

The weekend outlook doesn't seem too bleak, with warmer weather and some possible sun on Sunday (how fitting). Alas, not all is lost - looking 10 days ahead, we're moving past the sixties and onward into the 70's!

So, moving away from the weather report and onto what's going on in the shop.

What's your plan for 4th of July? Going out of town? Staying home to avoid the craziness of the city? Participating in the craziness of the city? Well, we'll probably be doing the same, that's why for 10 days starting today, we're running our Pre-4th of July Sale until the 1st of July - 10 days of great deals for you to get your gear. We've marked 20%-40% off a ton of worthy gear and apparel across the store, from socks to packs, softshell and down jackets to harnesses and gloves. There's definitely been a consistent buzz for the first day!

We've launched the

Bike Commuter Workshop

event set for July 18th and open to everyone...free! This workshop will focus on how to keep your bike running smooth with maintenance tips and advice from our knowlegeable bike shop guys (yep, the talented and famous crew as seen in our

store video

). There will also be opporunities to win some great gear! The class is expected to run about 2 hours and seating will be limited - so make sure to call in and sign up with the bike guys (206)545.8810.

We just recieved a batch of Black Diamond sample and closeout gear today - including 50% off packs (reg. $120) and trekking poles (starting at $20)!

If you haven't been in the store lately, be sure to stop by because we're bringing stuff in on a daily (literally) basis and you never know ~ that $700 Voile splitboard you were dying to get last season might just be here for $300 right now (hint, hint).

Last but not least, we'd like to welcome a couple new guys to the shop: Reilly and Andrew! Reilly joins us from a former position with another outdoor retail shop in Colorado and brings a relaxed and welcoming personality to the crew. His favorite activity? Backcountry skiing. His favorite color? Chartreuse. Andrew brings a slight southern drawl and hospitality to follow. He comes from a climbing background where his backyard included crags like the Tennessee Wall and Sunset Rock. He has a penchant for Vietnamese cuisine and traditional climbing.

We're really excited to have them on our team!

Till next time,

SA Crew
HAPPY FATHERS DAY WEEKEND! 6/15/12

Big News: Starting today, we're putting all men's apparel on sale at 20% off and 10% off bikes across the board! Sale will go through Sunday.

As the northwest summer starts moving in (at least giving some inkling of longer days of sunshine and 70 degree temps) we've fully turned over the store with new brands like Kali Bike Helmets & POC, as well as a slew of new, closeout and used apparel from Horny Toad, prAna, Arcteryx, Patagonia and Rab. We've been really busy this season and June has shown that people are optimistic as ever that warmer and sunny days are just around the corner - maybe because last years summer season was so manic?

Some cool things of note in the house of Second Ascent:
Eric, our ski buyer and token Everest and Ama Dablam summiter is getting hitched! Congrats and may you enjoy your bachelor party next week.
We're wrapping up on our prAna "What's Your Wanderlust?" Facebook promotion. And the winner is...Julian Barnett of Marysville, WA for his comment:


"My ideal road trip would be one where I never return; just a constant nomadic existence where I drive around in an RV/camper van and explore anything and everything in the US that appeals to me, from beaches to mountains. No particular place to be with no timeline, just meet other climbers, surfers and adventurers and go where the wind takes me. Live spur of the moment, and make home wherever you are at any given time."

Julian gets $150 in prAna apparel for writing what many of us really dream to do - take off on a road trip...and just keep going. Thanks for participating, Julian! We'll be giving away things all summer so make sure you guys are linked up on our Facebook page to participate.

The 4th of July is approaching and we're planning something...stay tuned!

Some events that we're looking forward to having that might just be of interest:

July Commuter Bike Clinic and Ride - with a post-ride-round provided by Second Ascent!

August Backpacking and Hiking Clinics 1+2, focusing on proper footwear and backpacking gear selection!

Aug/Sept - Our very own Ian Nicholson has just completed the guidebook for the North Cascades Climbing and will have a slideshow and book signing.

September - Climbing Season Is Among Us - An in-store demo on some of the techy pieces of gear we have and how to use them as well as an open forum of climbing set-ups and anchors

More to be posted!
In contrast to the opening statement, this weekend's weather is looking rather bleak for sunshine. But if you're looking for some sun, head on over to the eastside where it's forecasted to be 75+ degrees and sunny!

Here's to another great weekend!

SA Crew

Less Than Two Weeks Before the 19th Annual Ballard Criterium 5/23/12
We're less than two weeks from the 19th Annual Second Ascent Sponsored Ballard Criterium! This year is proving to be another promising event and with the weather trends recently, it looks like it's going to be even better than last year for sure. Recently, we sent out this press release:
Second Ascent Hosts its 18th Annual

Ballard Criterium on June 2, 2012

Formula 1 meets Road Bike Racing

In Historic Ballard, Seattle!

More than 350 cyclists will race through the closed-off streets around Ballard Avenue this summer during the Ballard Criterium (aka, "the Crit"). This exciting event challenges top riders to hold their line around sharp turns and varying surfaces while sprinting up to 30 miles an hour through descents, climbs, and straightaways—all in a pursuit of cash, prizes, and overall placement in a four-part professional race series.

The Crit distills road bike racing into its raw and aggressive elements by shortening the course to a spectator-friendly, single urban block. Think of it as a concentrated Tour de France or, better yet, the Formula 1 of cycling.

The Crit is expected to attract more than 2,000 supportive spectators— guaranteeing an afternoon of family fun and excitement in historic Ballard. The first race starts at 3:30pm and the last race begins at 7:30pm, rain or shine.
One of the several things we didn't mention in the press release is the spectator pre-race warm-ups. Here's a clip from the Ballard Tribune last year:
"With more bars on the course than anyone can count, there's no short of non-bikeracer spectators," [Nicholas] Rhodes said, adding that The Loft bar is conveniently located on the inside of corner four, which always has a raucous crew out cheering for the racers. "Crowds are what make a crit and [our gets really into it," Rhodes said. "We'd like to think we put on a good race. We aim to have good music and good announcers. [And] we try to have great prizes and usually aim to make sure everyone in prize paying positions makes at least they're entry fee back." - http://goo.gl/Sgcpl
As we're counting down the days for the Crit, we're also unloading fresh new apparel from prAna, Ibex and Arc'teryx, backpacks from Deuter and bikes from Scott, Transition and Kona. UPS has been visiting on a daily basis with towers of boxes to keep us busy. As this weekend rolls closer, we're looking forward to seeing you and wish you a safe holiday weekend!

- SA Crew

Second Ascent Has Joined up with the Washington Climbers Coalition! 4/27/12
It is with great pleasure to announce that Second Ascent has been able to team up with the Washington Climbers Coalition (WCC) to help with the climbing access issue at Gold Bar and Zeke's Wall. Over the years, Gold Bar (GB) has had it's rounds of access issues and it wasn't until recently did the comfort of driving up to the boulders become possible again - thanks to WCC's negotiations with the landowners.

The current situation, as stated on the WCC webpage:

"...As of Winter 2012 the Washington Climbers Coalition (WCC) has secured access to the gate on the road which leads up to the Gold Bar boulders and the approach to Zeke's Wall. Climbers who are members of the WCC are welcome to climb at the Gold Bar Boulders and to park there for access to Zeke's Wall, as guests of the Manke Timber Company. Please note: all climbers using this road must be members of the WCC and have a WCC sticker as well as a valid Discover Pass..."

For anyone that has never been to Gold Bar or the lesser known Zeke's Wall, the climbing there and the nature of the granite is some of the best in the country. WCC says:

"With hundreds of uncleaned routes, Gold Bar offers years of exploration and opportunities. The size, diversity and quality of Gold Bar could rival Squamish if the area were fully developed by the Washington climbing community. In a beautiful alpine setting, overlooking the Skykomish River and Mount Index, bouldering in Gold Bar is a unique experience."

Stay informed. Be responsible and keep it open!

-SA

Welcome to the Second Ascent Blog! 4/9/12

It's a sunny day in ol' Ballard and we're busy working on switching our store over from winter to spring. We have a lot of new stuff coming in almost daily and you ought to come in and check it out!

Some things of note:
Although it's a couple months away, the Ballard Criterium (a.k.a. "the Crit") is by far, not only one of our biggest events, but also one of the biggest events in Ballard. Ballard Avenue is shut down for a couple blocks and spectators, fans and bike riders alike line the streets to watch this annual race in the beginning of June. Here's quote from the official Crit blog:
"The Second Ascent Ballard Criterium is one of Seattle's classic bike races with a great city course, lots of fans and a fantastic atmosphere. Just like the original crits in Belgium, the keystone pro event kicks off at 7:30pm with fans spilling out of the local bars and restaurants to watch and cheer." Click here for more information.
We're hosting a great event on our Facebook page with La Sportiva climbing shoes asking our fans "what climbing means to you." Click the link and/or find the post on our FB page to comment and you could be a proud owner of a pair of their men's or women's high performance shoe – the Miura. This will remain open to comments until the end of April. There's a few other things that we'll be working on this summer (and beyond), so make sure to follow our blog to stay in the loop!
Until next time,

Your local guys and gals at Second Ascent
---